Joshua A. Greenspoon, M.D.
Joint Replacement Specialist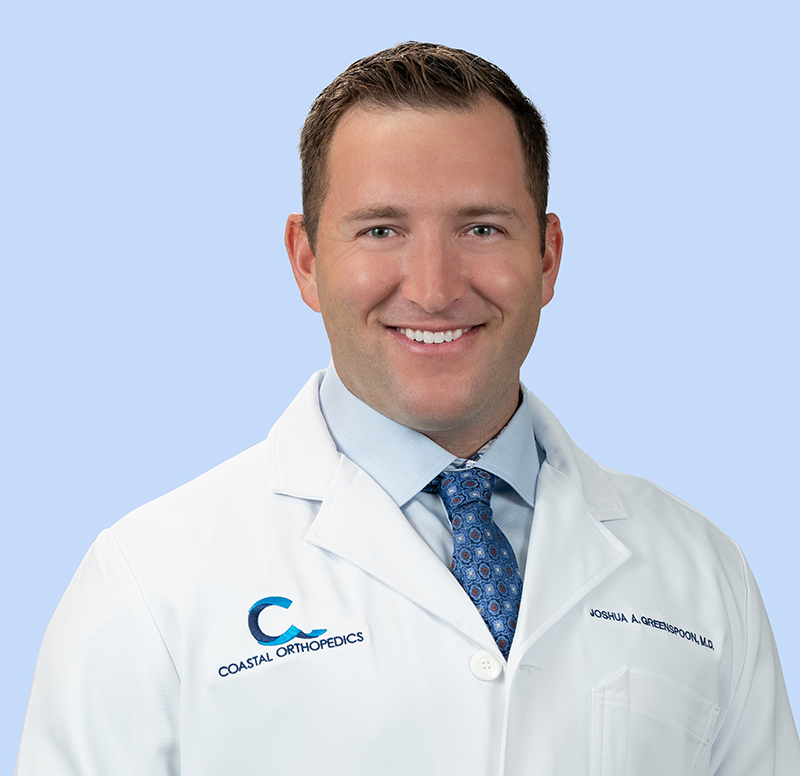 Coastal Orthopedics, a full-service provider of comprehensive orthopedic surgery, sports medicine, spine care, pain management, diagnostic imaging and physical therapy service, recently welcomed Dr. Joshua Greenspoon to its highly skilled staff.
Dr. Greenspoon, a Florida native and second-generation orthopedic surgeon, joins Coastal Orthopedics as a fellowship-trained orthopedic surgeon. He specializes in the treatment of hip and knee arthritis with joint replacement surgery and utilizes minimally invasive surgical techniques to allow for faster recovery and improved patient outcomes.
After attending medical school at the University of Miami, Dr. Greenspoon completed his orthopedic residency and fellowship in joint replacement surgery at RUSH University Medical Center in Chicago. During his time at RUSH, he was trained by world experts in partial knee replacements, total joint replacement and complex revision procedures. Dr. Greenspoon has a particular interest in outpatient total joint surgery and has participated in clinical research and the development of perioperative protocols.
"Dr. Greenspoon came highly recommended by the faculty he previously worked with at Rush," said Paige LeMay, chief executive officer of Coastal Orthopedics. "He has trained with some of the top leaders in joint replacement surgery and his commitment to excellent patient care is a true testament to our mission of providing the highest quality of orthopedic care in our community."
Dr. Greenspoon has participated in an extensive amount of clinical research, amounting to over 25 publications and podium presentations. His research largely focuses on improving clinical outcomes for patients after surgery.
"My wife and I grew up in Florida and we were excited to return to the state upon completion of my surgical training," said Dr. Greenspoon. "When I interviewed at Coastal Orthopedics, I was most impressed by the culture of the group. Coastal Orthopedics emphasizes the importance of delivering excellent patient-centered care. I am looking forward to helping patients get back to doing the activities they love without pain as quickly and safely as possible."