About Dr. Boyette
Dr. Melissa Boyette is a board certified orthopedic surgeon who specializes in hand and wrist surgery. She has special interest in fractures, sprains, ligament tears, tendon lacerations and ruptures, as well as joint replacement and reconstruction of the hand and wrist. Dr. Boyette treats patients of all ages from athletic injuries to crippling arthritis. She has a passion for helping people get back to the things in life they enjoy most without hand and wrist pain.
Dr. Boyette enjoys spending all her free time with her husband and two small children.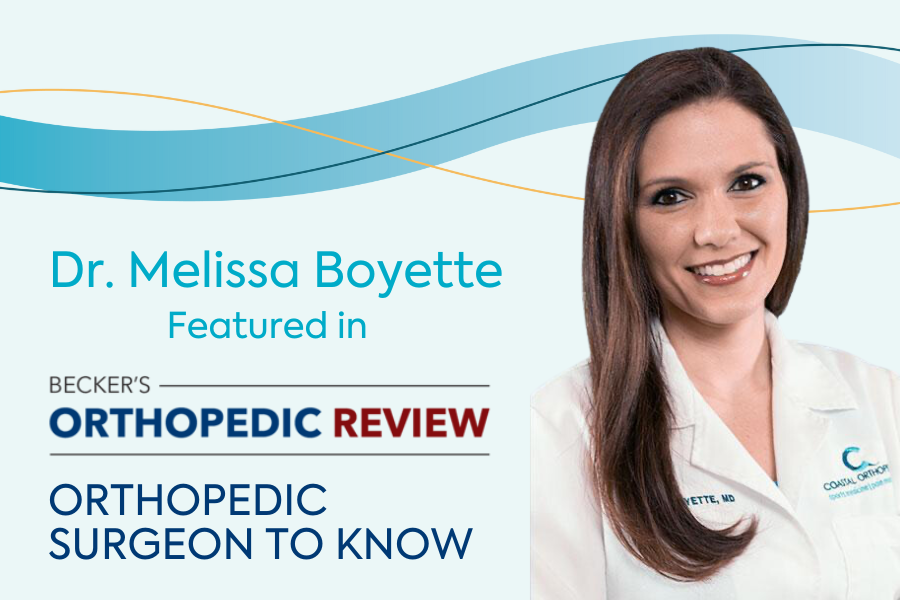 Common Conditions & Treatments
Testimonials
Dr. Boyette is the supreme professional. I had complicated surgery on both hands which involved taking tendons from my arm and repositioning them in my thumb, as well as releasing nerves in my little finger and regular carpel tunnel surgery. My scars barely show and all my symptoms are gone. She explains the surgery and recovery well and is approachable and personable. I feel fortunate that she is available locally.!
Barbara G.
Aug 10, 2023
Dr. Boyette knows her job very well and her execution is fantastic. Highly recommend her for orthopedic hand issues.
Den R.
Aug 10, 2023
This was my first visit to Coastal Orthopedics. From the moment I signed in, until I checked out, everyone was very kind; upbeat and professional. Dr. Boyette was great. She quickly addressed my issue and discussed options and we made a plan. I would definitely recommend this office. Thank you!
Susie T.
Aug 10, 2023
Dr. Boyette, is just brilliant. She doesn't miss a thing. What is most important to me is that she takes her time and lessons to the patient. The patient can see that Dr. Boyette truly cares.
Kevin M.
Aug 10, 2023
Dr. Boyette was friendly, engaging, and a good listener. She answered all of my questions and explained where my injury was located on my wrist and how to best resolve the problem. This was my first visit to coastal orthopedics and was very impressed with the friendliness and proficiency of the staff.
Gayle A.
Aug 10, 2023