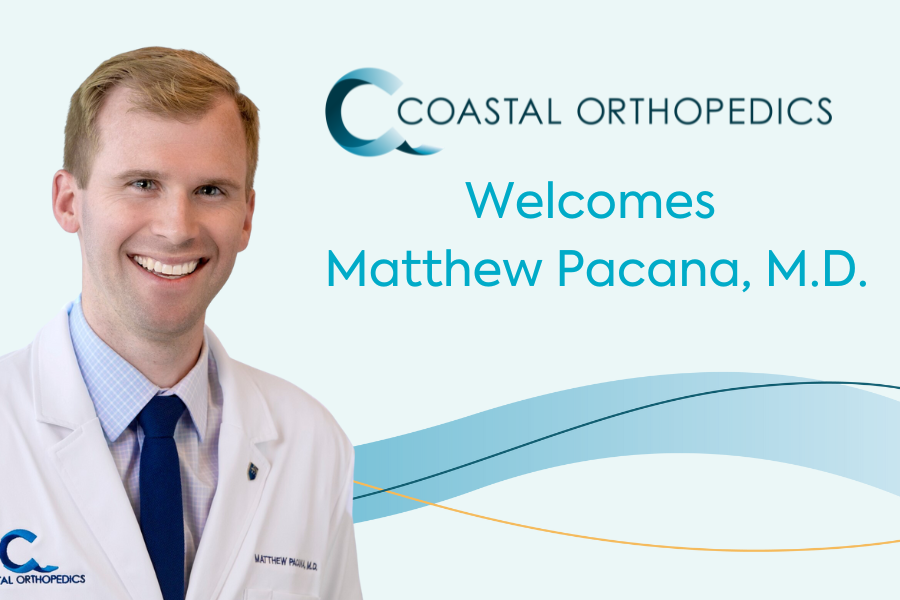 Coastal Orthopedics recently selected Dr. Matthew Pacana to join its highly skilled staff.
Dr. Pacana is a fellowship-trained orthopedic surgeon specializing in foot and ankle injuries and disorders. With a focus on foot and ankle pathology, Dr. Pacana treats patients of all ages with various conditions, including foot and ankle arthritis, tendonitis, ankle instability, athletic injuries, bunions, and fractures. He has a special interest in ankle replacement, minimally-invasive techniques and arthroscopy.
After attending medical school at Pennsylvania State University College of Medicine, Dr. Pacana finished his orthopedic surgery residency at the University of South Carolina School of Medicine. He then went on to complete his foot and ankle fellowship at the University of Texas Houston.
During his fellowship, Dr. Pacana helped take care of several collegiate sports teams, including the football and soccer teams at the University of Houston.
Dr. Pacana has published several papers on orthopedic education and adult-acquired flatfoot deformity in several peer-reviewed journals, including the prestigious Journal of the American Academy of Orthopaedic Surgeons and Clinical Orthopaedics and Related Research. His research has been presented at numerous national and international meetings.
"I knew Coastal Orthopedics was a place I could call home when I met the robust group of driven and knowledgeable surgeons that make up their team," said Dr. Pacana. "The excitement that I have surrounding the beginning of my foot and ankle practice is only magnified by the fact that I get to do it with the support of the forward-thinking staff and colleagues that make up Coastal Orthopedics."
Dr. Pacana will be performing surgeries at Coastal Orthopedics' outpatient surgery center. He will also be credentialed at HCA Florida Blake Hospital, HCA Florida Sarasota Doctors Hospital, Lakewood Ranch Medical Center and Manatee Memorial Hospital.