The Importance of the Foot
The foot is responsible for four major functions. It must be able to serve as a shock absorber, a lever for propulsion, adapt to uneven surfaces and translate forces generated by the hip. The muscles and tendons work together with the bones, joints, and ligaments to achieve these functions. If one part is not functioning properly, the entire foot can be affected.
The Anatomy of the Foot
The foot is comprised of three main parts: the hindfoot, midfoot and forefoot. There are also many ligaments, tendons, and muscles in the human foot, which help with mobility.
What Causes Foot Pain?
There are many reasons you may have foot pain. Foot pain can be caused by different diseases, deformities, biomechanical conditions, improper footwear or injuries. Athletes are particularly susceptible to foot or ankle injury, from the sports they play to the footwear they wear. If you play a sport, it's important to always make sure your footwear fits properly to avoid injury.
There are different areas of the foot where foot pain can occur: in the ball of the foot, heel, arch, toes or outer edge of the foot. These are the primary areas where foot pain can occur. Below are some conditions that can occur in these areas:
Common Forefoot Conditions
There are many common types of forefoot conditions that can cause foot pain. Some of these conditions include:
Bunion/Bunionette – a bunion is an enlargement of the bone on the side of the big toe joint. A Bunionette is an enlargement on the baby toe joint.
Hallux valgus deformity – shifting of the big toe, turning into the smaller toes.
Hallux limitus (HL) / hallux rigidus (HR) – Hallux Limitus is limited or reduced movement of the big toe. Hallux Rigidus is when the motion of the big toe decreases due to arthritis.
Morton's neuroma (interdigital neuroma) – irritation, pressure or injury to one of the nerves that lead to the toes.
Metatarsal phalangeal joint capsulitis – local inflammation at the ball of the foot.
Metatarsal stress fractures (march fractures) – a small break in the bone caused by repetitive stress.
Freiberg's disease – a lack of blood supply, resulting in permanent damage to the bone tissue at the second metatarsal.
The Importance of the Ankle
The ankle is important for your overall mobility – it allows you to walk, run or jump. Much like foot pain, health issues in the ankles can make routine daily activities difficult. If you are experiencing pain or difficulty walking, it's important to get your feet or ankles examined by an orthopedic physician. At Coastal Orthopedics, our orthopedic physicians are recognized as the best in the country and are board-certified specialists.
The Anatomy of the Ankle
The ankle joint is comprised of three bones: the tibia, talus, and fibula.
What are the Types of Tests for Foot Pain?
There are many different conditions, injuries or diseases that can cause ankle or foot pain. To diagnose your foot pain, there are a few tests your foot doctor may perform. Some of these tests include:
Physical exam: Your doctor will look for any kind of swelling of the foot as well as deformity, pain, discoloration or skin changes.
X-rays: This imaging technique can help your doctor detect fractures or damage that could be caused by conditions like arthritis.
MRI scans: Short for "magnetic resonance imaging", is an imaging machine that uses a powerful magnetic field and radio waves to produce detailed images of tissues, bone, and any other internal body structure.
CT scan: This imaging technique combines multiple x-rays, to give the doctor detailed images of the foot and ankle.
What are Some Treatments for Foot Pain?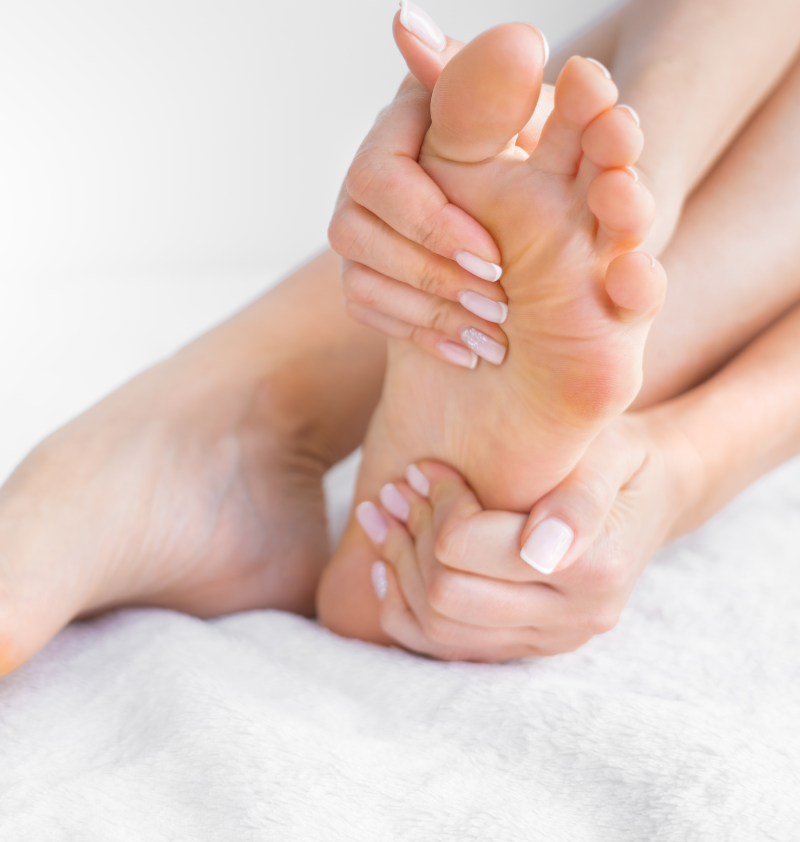 Once your doctor has diagnosed the cause of foot or ankle pain, they will explain all the possible treatments to relieve your pain. Treatments can be either surgical or non-surgical. Below is a list of some different treatments that your doctor could suggest:
Orthotics: Inserts for your shoes that can improve some conditions that cause foot and ankle pain.
Physical therapy: A variety of exercises to improve flexibility, strength, and support of the foot or ankle.
Surgery: For some conditions, such as a fracture, this treatment can relieve foot and ankle pain.
Pain medication: Medications that can relieve pain are available over-the-counter, though some medications may require a doctor's prescription.
Antibiotics: When foot or ankle pain is caused by an infection or bacterial condition, you may be prescribed an antibacterial medication.
Antifungal medication: Conditions like athlete's foot or any other type of fungal infection can be treated with antifungal medications.
Cortisone injection: Steroid injections can help reduce pain and swelling for certain foot and ankle conditions.