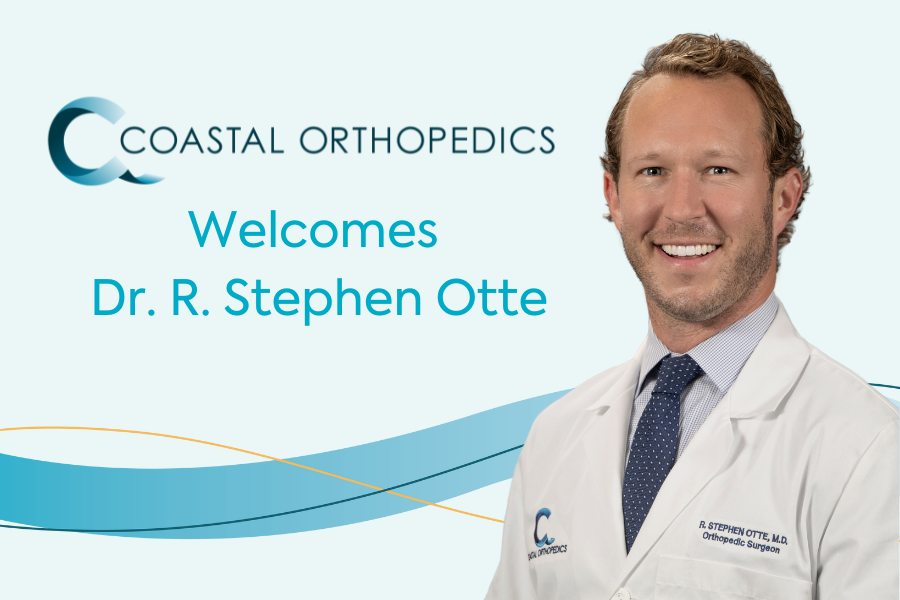 Dr. R. Stephen Otte thought he had it all figured out until a trip to Memorial Stadium on the campus of the University of Nebraska altered his future career path.
While shadowing his neighbor Dr. Scott Strasburger, who was the team physician for the University of Nebraska at the time, the high school senior and three-sport athlete got a firsthand look into the medical field.
It wasn't Dr. Otte's first time being around a physician. His grandfather Dr. Steven Carveth was a cardiothoracic surgeon, and his influence propelled Dr. Otte, who initially planned to study architecture or engineering, to pursue a career in orthopedics.
"It really opened my eyes to orthopedic surgery and the treatment of athletes' bones and joints," says Dr. Otte. "I really enjoyed the hands-on nature of it. I'm pretty active, so the ability to interact with patients in the clinic and then translate that to procedures in the operating room really intrigued me a lot."
Dr. Otte joined Coastal Orthopedics in September 2019 as a shoulder, elbow and sports medicine specialist. While his specialty is shoulder replacement surgery, with a specific interest in complex rotator cuff management and joint replacement of the shoulder, Dr. Otte also treats sports-related shoulder and elbow injuries.
"The culture of the group at Coastal Orthopedics was great," says Dr. Otte. "I got a really great overall impression of the camaraderie of the group, and I felt like it was a good fit."
A native of Lincoln, Nebraska, Dr. Otte graduated from the University of Nebraska in 2008 with a bachelor's of science in pre-medicine and psychology before earning his doctorate from the University of Nebraska College of Medicine in 2013.
Dr. Otte went on to complete his orthopedic surgery residency at Spectrum Health through Michigan State University College of Human Medicine in 2018. Following his residency, Dr. Otte completed a fellowship in shoulder, elbow and sports medicine surgery at the prestigious Midwest Orthopaedics at Rush in Chicago. During his fellowship, Dr. Otte helped take care of several professional sports teams, including the Chicago White Sox, Chicago Bulls and Chicago Fire.
As an orthopedic surgeon with an emphasis on shoulder and elbow pathology, Dr. Otte enjoys the complex nature of surgery. He works with patients who have had debilitating injuries and helps them improve their function and get back to doing the things that they love to do.
Since joining Coastal Orthopedics, Dr. Otte has been focused on getting to know his patients and expanding his practice, which includes treating a wide variety of patients from Little League players with elbow pain to older residents with shoulder pain and arthritis.
Dr. Otte treats a variety of conditions, including rotator cuff tear arthropathy, shoulder instability, labral tears, biceps tendonitis, medial/lateral epicondylitis (or tennis elbow) and fractures of the shoulder and elbow.
"It's really rewarding to see patients with really debilitating injuries come out of surgery and tell you they can't believe how much better their function is," says Dr. Otte. "We see patients who have given up because of shoulder or elbow pain, and we're able to alleviate that pain."
In addition to seeing patients, Dr. Otte has written several book chapters, covering topics such as rotator cuff tears, reverse shoulder replacement and shoulder reconstruction. He has also published papers in several peer reviewed journals, including the Journal of Shoulder and Elbow Surgery, and presented his research at national and international meetings.
When he's not hard at work, Dr. Otte enjoys spending time with his wife Molly and almost two-year-old daughter Poppy. In addition to spending time with family, Dr. Otte also enjoys playing golf as much as he can, spending time out on the water and traveling. Most recently, the couple went on safari in Tanzania, Africa.
"That was really amazing," says Dr. Otte. "That was definitely one of my favorite trips."