Coastal Orthopedics, a full-service provider of comprehensive orthopedic surgery, sports medicine, spine care, pain management, diagnostic imaging and physical therapy service, recently celebrated the completion of its 500th robotic knee replacement procedure.
Coastal Orthopedics has been performing outpatient knee replacement surgeries since 2014. In an effort to expand its outpatient knee replacement surgery offerings, in October 2021, Coastal Orthopedics became the first practice in the region to offer Stryker's Mako Robotic-Arm assisted total and partial knee replacement procedures at an outpatient surgery center.
Robotic-arm assisted surgery offers the potential for a higher level of patient-specific implant alignment and positioning. The technology allows surgeons to create a 3D plan and perform surgery using a surgeon controlled robotic-arm that helps execute the procedure with a high degree of accuracy.
Mako SmartRobotics™ consists of three unique components – 3D CT-based planning, AccuStop™ haptic technology and insightful data analytics. In clinical studies, Mako Total and Partial Knee demonstrated the potential for patients to experience less pain, less need for opiate analgesics, less need for inpatient physical therapy, reduction in length of hospital stay, improved knee flexion and soft tissue protection in comparison to manual techniques. The technology also allows surgeons to cut less, which can result in less soft tissue damage and greater bone preservation.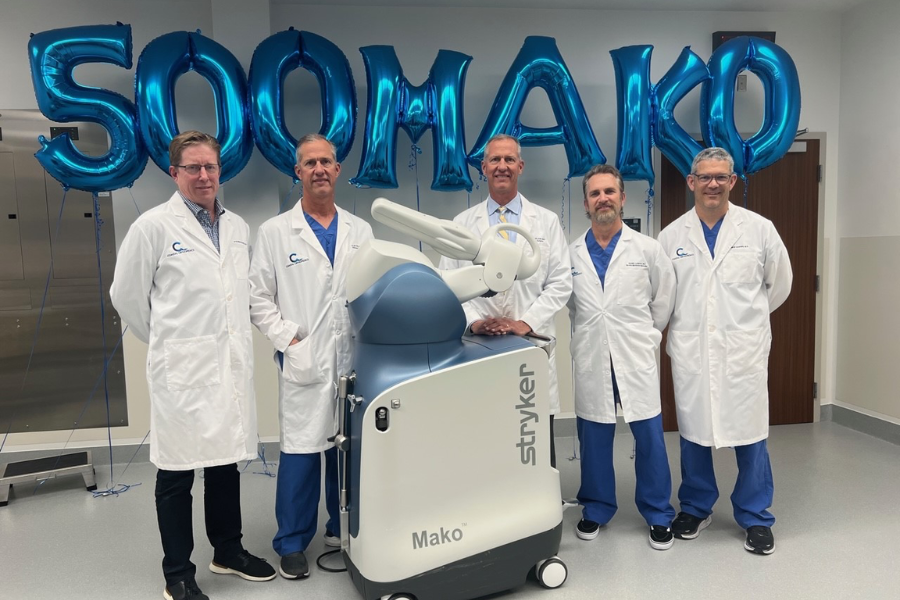 Photo attached from left to right: Dr. Steven Schafer, Dr. Alan Valadie, Dr. Arthur Valadie, Dr. Daniel Lamar and Dr. David Cashen
Following the personalized pre-operative plan, the surgeon guides the robotic-arm during bone preparation to execute the predetermined surgical plan and to position the implant. By selectively targeting only the part of the knee damaged by osteoarthritis, surgeons can resurface the diseased portion of the knee while helping to spare the healthy bone and ligaments surrounding the knee joint. Studies have shown robotic-arm assisted partial knee replacement is two to three times more accurate than manual partial knee replacement procedures.
"Our primary goal at Coastal Orthopedics is to provide the highest quality orthopedic care to our community, and we are proud to be able to offer this cutting-edge technology," said Dr. Alan Valadie, board certified orthopedic surgeon. "Our investment in this technology, as well as in new state-of-the-art facilities, offers us the ability to achieve the best possible outcomes for our patients."
For patients at Coastal Orthopedics, robotic-arm assisted surgery provides a new level of precision that can take surgical outcomes to an even higher level. It also allows them to take advantage of the latest innovations in health care right here in the community, without the added expenses of traveling to a teaching center or university.
"With six surgeries under my belt, I wanted my next knee surgery to use technology that was on the forefront and would give me the best results, which is why I went to Coastal Orthopedics," said Joseph Zwaan, Coastal Orthopedics patient. "Dr. Valadie explained the procedure in depth and the success that I could expect. In just 11 weeks, I'm biking, jogging and lifting weights again. I have Dr. Valadie and Danielle, my physical therapist at Coastal, to thank for that."